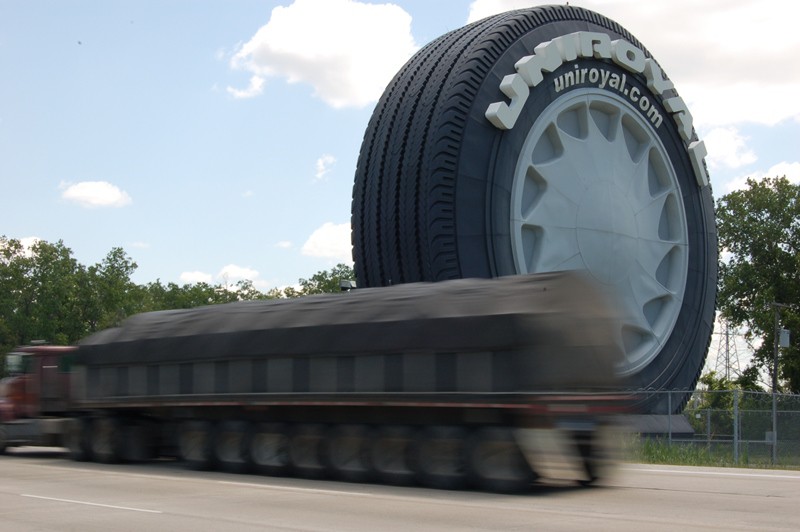 UPDATED Feb. 6, 2013 with additional photos—At eight stories tall, the 12-ton Uniroyal tire is a familiar Motor City landmark. For decades now the giant artifact has been planted along Interstate 94 near the Southfield Freeway in Allen Park.
Roughly midway on the route from Detroit Metro Wayne County Airport to downtown, the  tire is usually the first symbol of the Motor City that visitors encounter, and thousands of rivetheads pass by it on their way to the auto plants every day.
However, not many today know that the big roller was originally built by U.S. Royal, Uniroyal's corporate predecessor, as a Ferris wheel for the 1964/1965 New York World's Fair. Engineered by the firm of Shreve, Lamb and Harmon, the same outfit that did the Empire State Building, the amusement ride featured 24 gondolas powered by a 100-hp electric motor. Two million guests paid a quarter each for a ride.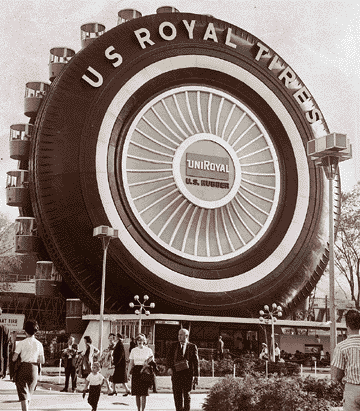 When the World's Fair closed, the tire was disassembled on the Flushing Meadows, Queens site and re-erected, minus the Ferris wheel mechanism, as roadside marketing art at its current location in Motown. The enormous (and smelly) old rubber plant downtown, on Jefferson Avenue at East Grand Boulevard, is long gone now, but Uniroyal's corporate symbol on I-94  remains.
The company has treated its very large tire to periodic facelifts over the years. In 1994 the tread and wheel cover were updated, and in 1998 a ten-foot long nail was inserted in the tread to promote Uniroyal's self-sealing Tiger Paw Nail-Gard line.
In 2003, a million-dollar structural overhaul saw the tire restored to its current form. The big tire is to the Detroit area as the Hollywood sign is to Los Angeles, so look for it the next time you're in the neighborhood. Indeed, it's pretty hard to miss.
Fun Facts:
+   The big tire displaces 120,576 cubic feet in volume, or around 93,000 cans of Fix-a-Flat. Tread depth is six inches.
+   A car built to scale for the tire would be over 200 feet tall and 720 feet long.
+   In 2003, the 10-foot long, 250-lb. fake nail was removed from the tire and auctioned on eBay for the Allen Park, Michigan Historical Society.